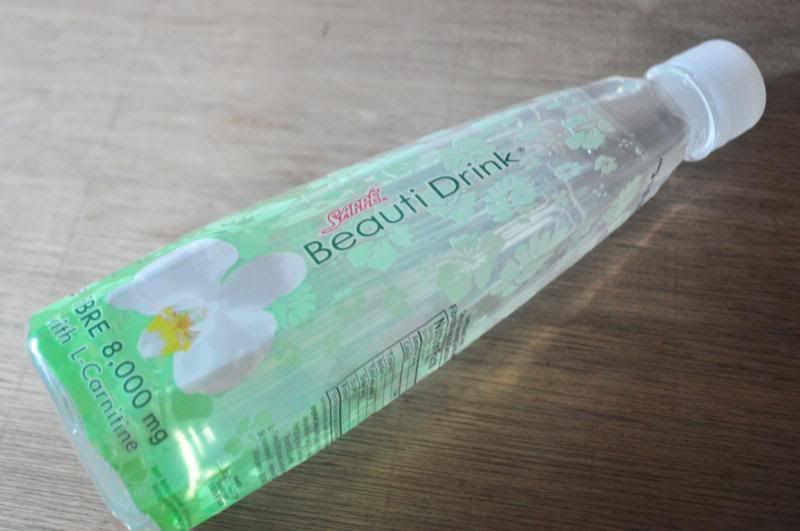 It has been months since I last ordered anything from
Sample Room.
I know you only pay the shipping and handling fees to get the free samples, but I've been saving money lately. I didn't want to spend on anything that I didn't really need at the moment. Since it's the holidays, I decided to treat myself. Sappe Beauti Drink is one out of the three samples that I chose.
I did a little research about Sappe and I was surprised to learn that it's the same company behind Mogu Mogu. (If you haven't had one, you're missing out!) The variant that was available in Sample Room was the one that contained fiber and L-carnitine. The drink's benefits include a healthier digestive system and fat burning components. One bottle is equal to two pomelos or eight tangerines. Wow!
The taste was tolerable. Actually, I was expecting some sort of bitter taste or something because health drinks are usually known to be cruel on the taste buds. It reminded me of a watered-down version of a certain soda brand. I was able to finish the bottle without feeling sick.
To be honest, I think I'd buy it. One bottle retails for P35. If drinking it is like eating a lot of fruit, then I guess it's worth it. I'll recommend this to those who aren't fond of fruits. I'm not a health expert, but it might be a good alternative. If not, it's a convenient way to get some fiber and L-carnitine in your system. I might wait for this to be available in the local grocery stores here.
I can't say much anymore since trying out one bottle won't make any noticeable difference to my metabolism and digestive system. Hopefully, I'll get to stock up on this in the near future. Also, I'm looking forward to trying the Collagen and Chlorophyll variants.