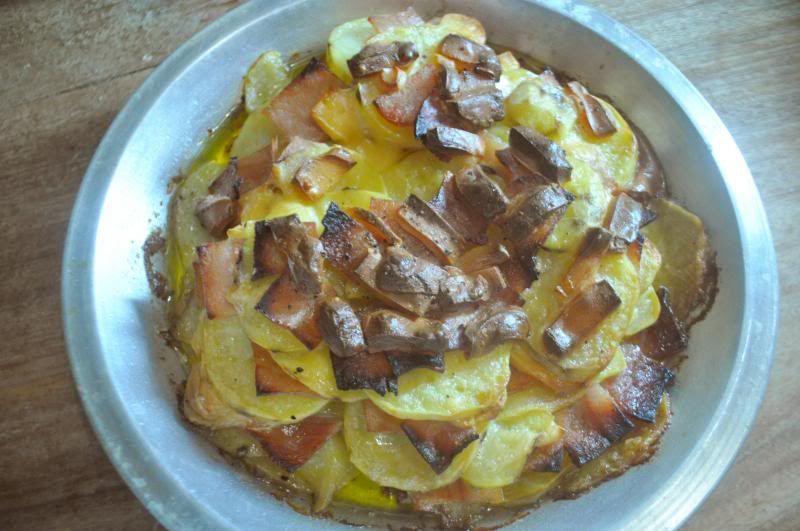 I have yet to hear of a person who isn't fond of potatoes. I can confidently say that they're my favorite root crop. It doesn't matter how they're prepared - fried, mashed, boil, buttered - because they
never
disappoint. I thought I've tried almost every method to cook a potato, but I realized I was wrong when I encountered a pommes anna recipe online.
This is actually a French dish. It's traditionally served with meat. I can imagine how good this would taste with a juicy slab of steak, but that will remain a dream for now. I decided to go for something more economical, you know, like ham slices. As a bonus, I added in some cheddar cheese as well.
Pommes Anna with Ham and Cheese Recipe
Ingredients:
3-4 Potatoes
4 ham slices
1/4 cup melted butter
Cheese
Salt and pepper to taste
Procedure:
Start by greasing your chosen container. In this case, I used a standard-sized pie pan.
Wash and peel the potatoes. Slice them as thinly as possible. Slice the ham slices into squares.
Arrange the potato slices on the pan. Add the ham next. Sprinkle salt and pepper before drizzling with some of the melted butter. Repeat this process until you've run out of ingredients. Top the layers off with cheese.
Preheat oven to 350 degrees F. Allow dish to bake for an hour or so. Use a toothpick or fork to check for doneness. The potatoes should be easy to prick.
A closer look.
Thankfully, my family loved it even if I wasn't sure about the outcome. I know we'll be having this again soon.
Some notes:
Just add enough of the melted butter. Overdoing it will result in soggy potatoes.
Use quick-melting cheese if you can. The end result will be more visually appealing and the cheese will spread out more evenly.
Worried about the scorched cheese? Don't fret! Some ingredients, like cheese, taste better when they're a bit burnt. I can attest to that.
Be creative! Add your favorite vegetables or meat in place of the ham and cheese. I suggest using bacon. That would make this dish extra sinful.