A couple of months ago, I was presented with the opportunity to review one of MyeSoul.com's products. The site is an online store that specializes in clothing.
MyeSoul prides in providing its customers with quality products at the lowest prices.
It has a wide range of items for different occasions, from weddings to cosplay.
The wig that was sent to me for review was a
long blonde one
. It's wavy at the bottom and it has some highlights. I've never worn a wig before, but I've seen some up close.
Personally, I think it's safe to assume that it's of good quality since it doesn't exactly give you the impression of being artificial at first glance. It feels close to real hair as well. This is great, especially if you consider the fact that the wig is made of synthetic fiber. The color is just right, too. If only I didn't have naturally black hair, I'm sure I could pull it off.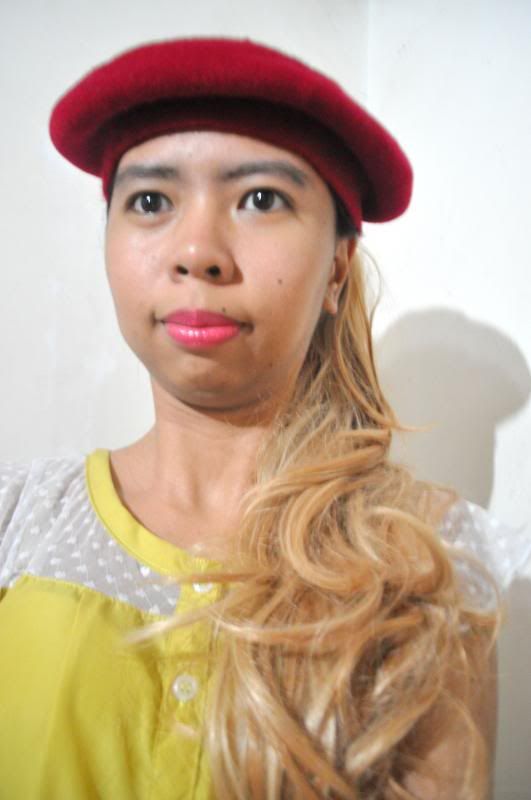 It's fairly easy to put on. All you need to do is to tie your hair into a bun. Afterwards, simply just clip on the wig above the bun. Some measures have to be taken in order to properly conceal the bun and clip. You can use a bow or hair tie. If not, grab some of the hair from the wig and twist it around the ponytail instead.
I chose to put on a beret because the contrast between the blonde ponytail and my black hair would've ruined the look. It isn't clear, but I also used a bandanna underneath the beret to keep my hair in place.
I had no choice in the color of wig, but if I did, I'd personally go for one that's closer to my natural hair color. I think it's possible to create an ombre look by applying some light brown or blonde hair chalk onto my black hair. Unfortunately, I don't have any on hand. If I ever get the opportunity to experiment with this in the future, I'll make sure to update this post with photos.
More photos:
The clamp that keeps the ponytail in place.
If you're interested in purchasing a similar product, visit MyeSoul.com to view their selection of hairpieces and other items.The site also has a special collection for those who are into the
Lolita
lifestyle. That might be worth checking out as well.
Sponsored Post