In an attempt to perfectly describe my love for Japan, I accidentally found out that there's such a word as Japanophile. Maybe calling myself that is pushing it, but to be honest, I've always had a fascination for it since childhood because of anime. Traveling there is at the top of my bucket list, but since that remains a far-off dream for now, I'll settle with enjoying their cuisine locally.
Earlier today, I suddenly felt like indulging in something Japanese, so I decided to give Samurai Sushi and Bento a try. It opened late last year, so my visit was actually long overdue.
The restaurant gives off a rustic feel with its wooden interior and minimalist furniture. The walls are adorned with little Japanese paper fans and lamps. Those who have been to Samurai during its first few months or so claimed that the place was too cramped. I have some good news for anyone who's hesitant about going there for that reason. Thankfully, the proprietors listened to client feedback and expanded the restaurant. The tables are aptly spaced amongst each other now, unlike before.
Even before the menu was presented to me, I already had a price range in mind. Lo and behold, I was pleasantly surprised to see that the menu items were affordable. Most of their sushi and maki dishes were under P200. With P190, you could already avail of one of their bentos. I have a soft spot for tonkatsu (deep fried pork), so I opted for that. You get a side of mixed vegetables and mashed potatoes with your order.
The tonkatsu was just as it should be—deliciously crispy. This was actually my second round of lunch, but I ended up finishing everything just the same. I liked the way you can get a balanced meal by ordering this set.
Oh, and before I forget, it comes with unlimited miso soup. Sadly, I have to say that Samurai's version tasted watered down compared to the ones I had in other Japanese restaurants.
I also wanted to try out their gyoza because it was marked as a bestseller. Maybe I should've asked, but I was expecting the deep fried kind. I didn't really enjoy this one because it lacked the kick that I was looking for. It was bland, flavor-wise. After having just one, I thought that I should've chosen another item on the menu instead.
Of course, this review would be quite incomplete without featuring the crowd pleaser, California Maki.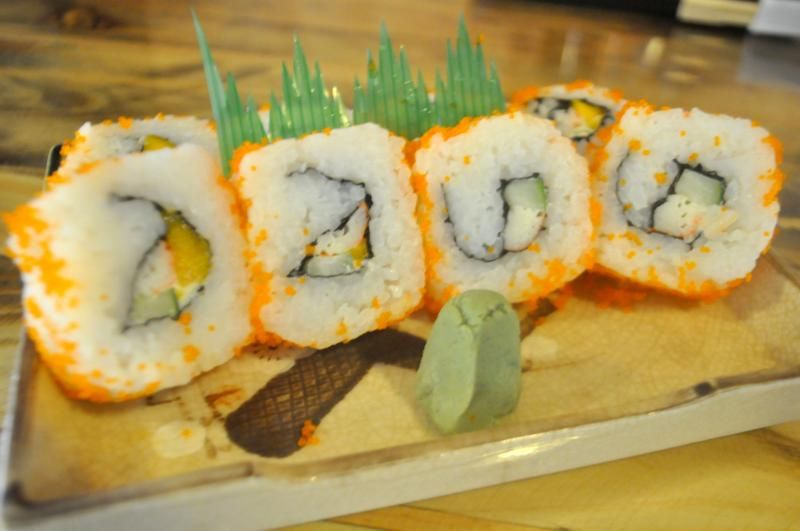 At first glance, I was delighted with the sight of their generous portions of the roll, but I later realized it would've been better if they were smaller. If I'm not mistaken, sushi is traditionally eaten in one bite, so doing so in this instance was challenging to say the least. It was a little difficult to pick them up with chopsticks, too. Even so, I didn't let those things stop me from enjoying my favorite plate of rolled sushi.
The verdict? I think Samurai is worth a second visit. I'm willing to try the other menu items that they have to offer. The affordable price range is also a big plus. It's probably the best place to go to if you're craving for Japanese, but are on a tight budget.
I do think there's still room for improvement when it comes to the food. As mentioned earlier, I feel as if there was something missing. The food was okay, but it lacked any distinctiveness that could've made it stand out when compared to the other restaurants that offer the same fare.
Address: Cabato Road, Tetuan, Zamboanga City
Telephone Number: (062) 310-2839