There's been a number of new restaurants popping out around the city, and I haven't been able to keep up with it because of offline obligations. Last night, I decided on a whim to try out one of the latest ones: Red Restaurant. It's a little out of the way, given the fact that it isn't near town, but it definitely caught my eye because of the bright red lights that illuminate it.
I immediately fell in love with the interior design. It stays true to its food offerings because its furniture and overall appearance has an Oriental feel to them. Ambiance-wise, Red Restaurant won me over the moment I stepped in. Also, you're greeted by staff who are really friendly and welcoming. Hopefully, it stays that way.
My family and I found this out towards the end of our meal, but I figured it's worth mentioning this early on. If you plan on having Filipino-Chinese cuisine, you should opt to dine in the first floor of the restaurant. Otherwise, you might want to try the KTV room or enjoy one of their kamayan bundles upstairs. Accordingly, the KTV room can be rented out for two hours for a minimum of P1,500 (inclusive of food). I think it's a pretty good deal if you're looking for a fun way to celebrate a birthday or any other special occasion.
Before I digress any further, let me give you my first impressions on their food:
Yang Chow Rice (P165)
This baffled me a little bit when our waiter laid it on the table. Using the word "generous" to describe the serving size is an understatement. The rice itself is filling thanks to the various ingredients incorporated in the dish.
Calamares (P120)
I've mentioned this before, but I'll shamelessly reiterate the fact that I have a love affair with calamares. It's my go-to
pulutan
during night-outs or even when I'm just eating out. Red's version comes in small, bite-sized pieces and it's just the right amount of crunchy. It's served with a sauce that goes quite well with the squid. Of all the dishes we tried, this is probably our favorite.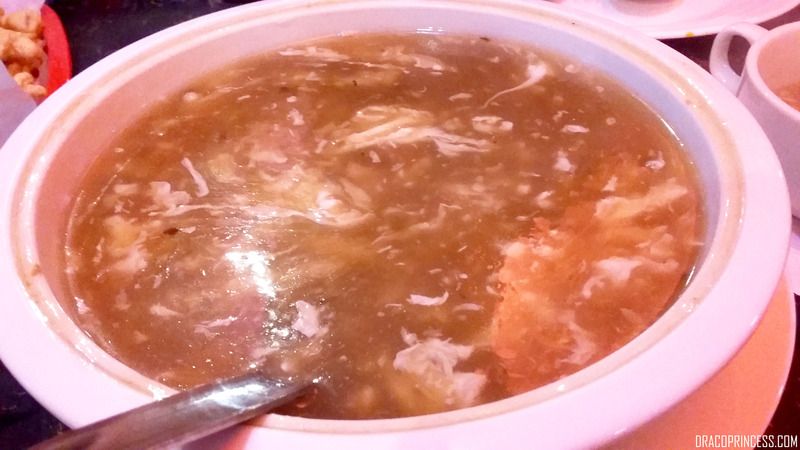 Minced Beef Soup (P165)
Typically, I prefer restaurants that have descriptive menus so you'd have some sort of idea of the dish that you'll be ordering. Red's was plain and simple, so I made a few assumptions when we chose this on the menu. It's basically a simple broth with slivers of beef and egg. I was expecting it to have some vegetables at least. Because of this, the soup can come off a little bland if not paired with something savory.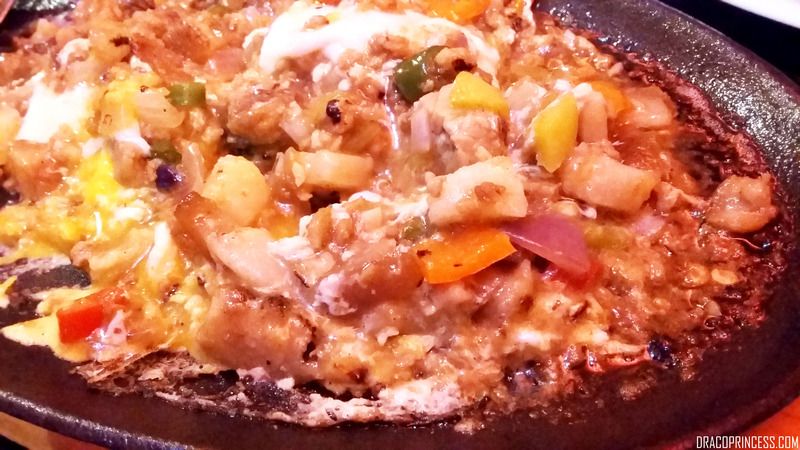 Pork Sisig (P150)
Sisig, another favorite. Red's take on this sizzling dish has a little kick to it thanks to pepper slices. It also has an assortment of vegetables mixed in, too. It's too bad I wasn't able to enjoy this with an ice cold bottle of beer.

Our experience with Red Restaurant was generally pleasant. The venue itself is appealing, and the staff were quite attentive to our needs. The service was quick. We didn't even need to wait long until our orders arrived. As for the food, I believe there's always room for improvement. I came in searching for a certain taste which I did not get at the end of our dinner. It's difficult to explain. Let's just say that the taste of the food is commensurate to the price.

Still, I'm willing to make a second visit once the restaurant has added steaks (which I wanted to try) to their menu. They will be having boodle fight bundles as well. I'm definitely coming back to try their KTV room, too.

Red Restaurant
Address: Pasonanca Road, Zamboanga City (same location as the old La Clarita Restaurant)