When you've become too caught up in the routine of your 8-5 job, then you'll know what a relief it is to get some time off. This is why I always plan my yearly vacation leaves accordingly. I started making it a goal to visit at least one new destination every year. Coron, Palawan was at the very top of my list. To kill two birds with one stone, I decided on going there alone, since solo travel was on my bucket list as well. Throughout my whole trip, I waited until I felt like I should be sharing the view with someone. Strangely enough, I never did. Coron was just too enchanting. I couldn't think of anything or anyone else while I was there.
Fear of the unknown pestered me throughout the weeks before my flight. I read up on the travel blogs of other solo travelers to get a gist of what to expect when I got there. It turns out that there was nothing to worry about because my trip went smoothly, if not for a few hiccups here and there. I discovered that one of the perks of solo travel is getting bumped to earlier flights. This made me happy because I thought I'd be pressed for time because I was only staying there for two nights.
The flight to Busuanga from Manila only lasted an hour. It felt really quick, too, since I busied myself with a Netflix movie. I requested for airport pickup, so a minibus was waiting for me when I arrived. The ride costs P150 per head. It took about thirty minutes to reach the town proper.
One of the obstacles I mentioned earlier was the weather. It was scorching hot when I checked in Jims Castle Inn, so I decided to wait until sundown to head to Maquinit Hotspring. Unfortunately, the sky had other plans because it started rumbling by the time I was ready to go out. This is what I get for stubbornly booking a trip during the rainy season.
Thankfully, the rain eventually stopped and I decided to push through with my plans. Instead of climbing Mt. Tapyas as planned, I looked for a tricycle that would take me to the hotspring. I thought that the steps to the top would be too slippery because of the rain, so I didn't take the risk. The tricycle ride cost me P300. This is already a round-trip fare since you won't be able to get a tricycle at the hotspring.
The ride to Maquinit is an adventure in itself. Since it just rained, the roads were extra slippery. I had to hold on tightly, especially towards the end of the trip where the roads are not cemented. After what seemed like more than half an hour, I arrived at my destination. The entrance fee is P200 per head.
Even with the unpredictable weather, people still flocked to the hotspring. I found a corner where I could have my bag close to me while I took a dip. It's a good thing I did my research and gradually slipped in the water so my body would get accustomed to the heat. It was soothing, especially with the chilly evening air.
There were tables scattered around the area. I'm not sure if they're free to use. I didn't bother to ask anymore since I was alone and I just brought a small bag with me. Though there are bathrooms available, what bothered me was the lack of showers. I felt a little itchy after my dip, so a shower is a must. Also, I think the management should adapt the Japanese practice of requiring guests to bathe first before going inside the hotspring. Wouldn't that be more hygienic for everyone? That's just my opinion though.
It started raining again when the tricycle dropped me off in town. I didn't exactly have a choice on where to eat because the rain was starting to pour heavily and I only had a hoodie to shield my head. I quickly took shelter under a restaurant called Big Mamas.
I had their Bicol Express because nothing else on the menu caught my eye. It's actually my go-to order when I can't decide on what to eat because of two reasons, it's pork and it's spicy. Unfortunately for me, it was pretty bland and forgettable. It cost me P120. How I wish the rain didn't get in the way of my plans.
The rain continued to be a nuisance until the morning of my tour. I was filled with anxiety over the the possibility of a cancellation, but thankfully, the tour went as planned. I booked a tour with JY Travel and Tours beforehand because I didn't want to inconvenience myself with any last-minute planning. I was picked up from the inn by tricycle then brought to the port. There were 18 other people on the tour.
Our first stop was Siete Picados. I wish I had a fancy gadget like a GoPro to show you how everything looked underwater, but alas.
The second stop was Kayangan Lake. You're treated to a breathtaking view the moment you arrive at the dock. The aquamarine water is mesmerizing.
Before you reach the lake, you have to take the stairs. I've recently started exercising but I was still panting during the climb.
All those steps are worth it though, since you get to take photos from the view deck. It is here that you'll finally see the familiar view you might have seen in people's photos online or on postcards.
We had to take another flight of stairs going down in order to swim in the lake.
After another grueling trip up and down the stairs, all of us were starving. We then headed to the venue of our lunch, Sunset Beach.
Lunch consisted of grilled fish, chicken, vegetable salads and fresh fruits. I am usually a fan of this sort of food, but none of the dishes stuck to me taste-wise. They were arranged beautifully, but their only purpose was to fill us up and not to please our taste buds.
After getting our fill, it was time to hop on the boat again to get to the Skeleton Shipwreck. The name sounded really ominous, but according to the tour guide, it wasn't a warship but a fishing vessel. Again, the view is underwater so I apologize for the lack of photos. I was envious of some of my fellow "tourmates" because they knew how to free dive. They were able to take videos of the wreck up close. I was content with seeing the grime-covered ship and the fish that swarmed below us.
It was here when I started to feel like a small dot in this beautiful world. I'm sure that's a natural reaction given that I was smack in the middle of the deep sea with nothing but a life vest keeping me afloat.
Our next destination was CYC Beach and the Coral Reef Garden. For some reason, most of our group was itching to move on so we didn't even stop. I actually felt a little robbed when this happened, but then again, I was just as excited as they were.
The Twin Lagoons is probably the main reason I chose to get this particular tour package. Heck, I think it's the reason why I wanted to go to Coron in the first place. I was smitten the moment I watched this random video where travelers had to float through a small cave-like entrance to get to the second lagoon. It was low-tide, so we didn't have to worry about accidentally hitting our heads on the sharp rocks overhead, but it didn't take away the magic of the moment.
It was beautiful. It felt utterly surreal just floating on my back, taking in the interesting limestone formations that surrounded the blue green water. This is where I started telling myself that the trip was worth it, that I was right to choose Coron as my first solo travel destination. There were no other distractions. I had this picturesque view all to myself and all I could do was lean back and sear it into my memory. I didn't have the guts to carry my phone with me even if it was water resistant. Besides, maybe there are some things that are meant to be immortalized in our minds and not on social media.
I can only imagine how deep the lagoon was because only a curiously blue darkness greeted me whenever I looked down. The little kid in me who has always been scared of the sea, (because I almost drowned when I was younger AND I never, for the life of me, learned how to swim) panicked a little slightly. I was the first back on the boat.
By then of our tour, the atmosphere on our boat grew silent. Everyone was probably exhausted from all the walking and swimming. We parted ways at sundown on the port.
To make my final night count, I decided to head out once again though I was pretty drained. One of the girls on our tour recommended we try Pedro's Gelato, so I decided to look for it. I actually walked from the inn to the establishment just so I could properly look around town. To my surprise, it was actually more fun to walk instead of riding a tricycle. There are some things that you'll tend to miss when you're on a vehicle.
'
Pedro's Gelato isn't meant for big groups. I think you're supposed to just grab your ice cream and have it to go. If I'm not mistaken, there were only four chairs available. The flavors I chose were Nutella and salted caramel. It costs P100 for a 100-gram cup of two flavors. I'm picky when it comes to ice cream, but I'm happy to share that Pedro's exceeded my expectations. It was surprisingly creamy. The Nutella flavor was disappointing though because it only tasted like regular chocolate ice cream. The salted caramel one stole the show. It's certainly something worth having when you have a sweet tooth like me.
After a good night's rest, it was time to for my postponed trip to Mt. Tapyas. I recommend taking a tricycle since the road heading to the foot of the mountain is quite steep. If you'd like to reserve your energy for the climb, it's the best option.
They say that you should climb Mt. Tapyas just before sunset so you'll be able to witness the already beautiful Coron bathe in the light of magic hour. Right after, you'll get to see the city lights. As mentioned earlier, my plans were foiled no thanks to the weather. I could've woken up earlier to catch the sunrise, but I am just not wired for mornings.
I met other tourists during my climb, as well as locals who were having their morning exercise. To be honest, I was almost about to turn back once I reached the half-way point. Stairs just have a way of draining the life out of me. I pushed myself to keep going though. My flight was in a few hours. I had accomplish this final task.
All that exertion did not go to waste. I was treated to such a stunning view after 721 steps. Never mind if I was already drenched in sweat and gasping for air. It was worth the climb.
It was difficult to believe that a day before, I was on a boat and looking at the cross that marked the peak of Mt. Tapyas. I took a few photos and sat on one of the benches before bracing myself for the trip going down.
I'd like to sum up my Coron adventure with my travel itinerary and the details of my trip. I'd want to be able to help out others who are planning to visit Coron.
11:00 AM - Arrival
12:00 NN - Checked in at Jims Castle Inn
12:30-1:30 PM - Lunch, explored town
6:00 PM - Left for Maquinit Hotspring
6:45-7:30 PM - Hotpsring
8:00 PM - Dinner
8:30 AM - Picked up from inn
9AM-5PM - Coron Ultimate Island Tour
6:30 AM - Climbed Mt. Tapyas
10:00 AM - Travel to airport via van
1:00 PM - Arrived in Manila on an earlier flight
Plane ticket: P2,367.00 (promo fare)
+Airport transfers: P300.00
Tour: P1,500.00
+ Aqua shoes rental: P150.00
+ Snorkeling gear rental: P150.00
Maquinit Hotspring Entrance Fee: P200.00
+Tricycle fare: P300.00
Accommodation: P1,094.00 (via Agoda.com)
Terminal Fee: P100.00
Food: P500.00 (an estimate)
I was on a budget, so I decided to cut corners by opting for an affordable room. The room given to me was quite spacious. I think it was meant for two people, so I would've saved more if I had someone to split the cost with. I chose a fan room because it's significantly cheaper than one with airconditioning. I made the right decision since mornings and evenings were cold even without the fan.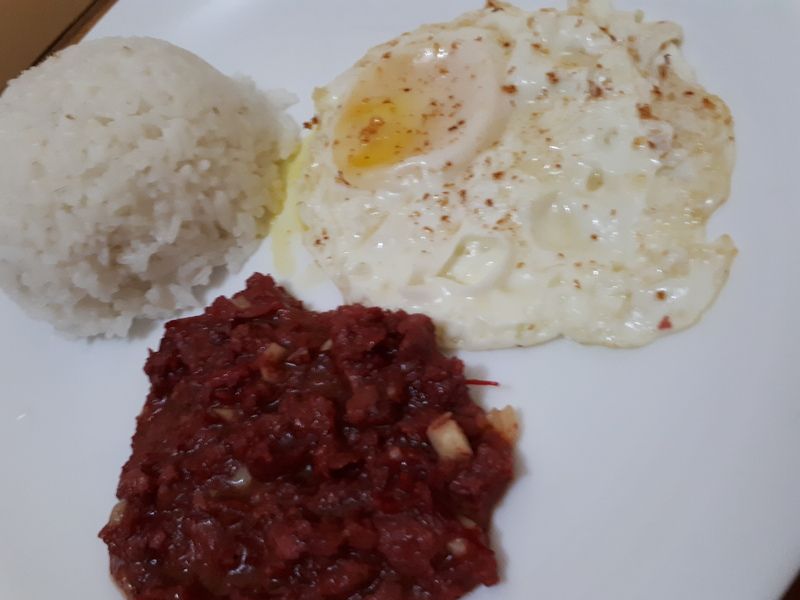 Breakfast for P120.00

Though my stay was pleasant, I had a few issues here. For example, just getting to Jims Castle is a struggle. The road that led to it is steep. The rain didn't help by making the path muddy and slippery. Even the driver who was assigned to pick me up for the tour was complaining about how tired he was from the walk to the inn. It's a residential area, so I had to be wary of the neighborhood dogs who were sniffing around every time I passed by.
Another complaint would have to be about the shared bathroom. It didn't seem to be finished yet as they were still painting the door when I got there. (Side note: my hands are imprinted there somewhere) The water pressure was frustrating to say the least. I even had to put the faucet back a couple of times because it would randomly detach from the pipe.
The only thing that almost made me lose my temper during the whole trip was the checkout process. For the first time, I was being charged because accordingly, they no longer honored Agoda bookings. This was surprising because I mentioned upon arrival that my reservation was from Agoda. After a reasoning out with the lady at the front desk, the issue was resolved after she made a call to the previous owner. Apparently, they ran into trouble with Agoda and broke off their contract with them. My booking was made in January, so it was still valid.
What irked me about this ordeal was how they didn't have a proper system in place to check bookings or payments for that matter. I even had to assert that I had already paid for my breakfast because they were charging this on top of the room. It's a good thing that I checked if my credit card was already charged, otherwise, I would've paid double. It was a terrible way to end my otherwise enjoyable trip.
I'm fairly satisfied with my tour experience. I just realized that I could've gotten it at a discount if I looked for a travel agency upon my arrival. You are greeted with brochures the moment you step inside the airport. They were having a rainy season sale. Also, there are travel agencies that offered free kayak rentals. I'm sure the Twin Lagoon could've been more enjoyable if we had those.
Notes:
If you can afford it and if you travel to island destinations quite frequently, it's good to own a pair of aqua shoes and snorkeling gear.
This isn't really a must, but throughout my trip, I kept wishing that I owned a GoPro. The beauty of the surface is nothing compared to that undersea. If not, there are places that rent out GoPros.
If you have the time, explore town before buying souvenirs or even meals. You are able to compare prices this way. I was in a hurry so I bought everything from the first stores that I saw. Later on, I found that the same keychains were available for less in other stores. As for the meals, the cheapest one I had was at P90.00. I found a barbecue stand during my last night in Coron and it only cost me P30.00 for three sticks of barbecue. I bought bread from a local bakery to add to the meal.
Aside from sunblock, make sure you have an insect repellent as well. We had to fend off some mosquitoes while we were having lunch at Sunset Beach. One of the guys on my tour had so many bites on his back.
There is so much more to see and experience in Coron. I am definitely coming back for the other available tours. Next time, I will be better equipped. I think I'll have to visit El Nido and Puerto Princesa before returning though.
Overall, my first solo trip was great. If you are still apprehensive, take it from me and give it a try. I think everyone should do this at least once in their life. It's actually pretty fun when you meet other solo travelers from all over the world. You won't feel as lonely when you realize that. Also, the experience is quite different when you travel alone. There are no distractions. Plus, you won't have to worry about your friends bailing on you once the date of the trip approaches. I'm definitely traveling alone again. The question is, where to?